Fig newtons seem to be everybody's childhood favorite. Especially my husband's. I made a batch of homemade, gluten free fig newtons this weekend and he ate the cookies so quickly that I had to hide some for friends.
What makes these little fig newtons so special? Well, I'm told they taste like the real thing. And besides, unlike the original, they have no white flour, white sugar or artificial flavors. They're gluten-free, dairy-free, vegan and naturally sweetened, making them a perfect treat for just about anyone –including those on the GFCF diet.
Lately, a number of parents have been in touch with me about the GFCF diet. Through these correspondences I have been introduced to TACA, as well as Jenny McCarthy's memoir about her son, Louder Than Words
, in which she discusses her journey to heal her son's autism.
I am glad to have encountered this strongly networked group of parents and to provide GFCF recipes such as the one below that offer fun food for the whole family.
Fig Newtons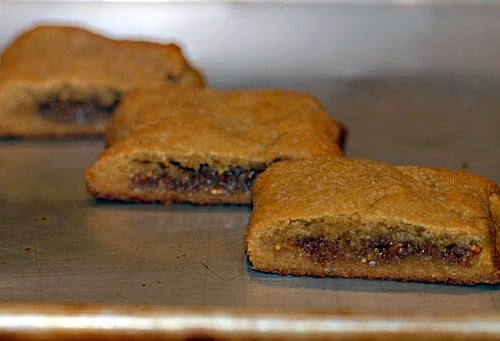 Print
Email
Pin Recipe
Instructions
Place figs in a

food processor

and blend for 30 seconds until they are well chopped

Add lemon juice and vanilla; process until a smooth paste results

In a

small bowl

, combine agave, yacon, grapeseed oil and vanilla

Mix wet ingredients into dry, then refrigerate dough for 1 hour

Divide chilled dough into 4 parts

Between 2 pieces of

parchment paper

, roll out 1 part of the dough into a 10 x 4 inch rectangle, ¼ inch thick

Spread ¼ of the filling evenly down the right side (lengthwise) of the rectangle

Fold the dough in half down the long side --resulting in a 10 x 2 inch bar

"Mend" the seam so the bar is symmetrical

Repeat with 3 remaining parts of dough and filling

Allow to cool slightly; cut bar every 2 inches to form the fig newtons

Serve
Total Time
1

hour
20

minutes