For those of you that have leftover zucchini from your gardens, here is a delicious gluten free zucchini chocolate chip mini muffin recipe.  Our garden is just petering out with the severe frost we had last weekend and I need to get going on pulling up all the wilted plants from the yard.
Meanwhile, with this colder weather I've been a baking fiend and my family is fully taking advantage of this, loading themselves up with gluten free goodies.
Zucchini Chocolate Chip Muffins
Instructions
In a medium bowl, combine coconut flour, salt, baking soda and cinnamon
In a large bowl, combine eggs, oil, honey and zucchini
Mix dry ingredients into wet thoroughly
Stir in chocolate chips
Grease a mini muffin tin with grapeseed oil and lightly dust with coconut flour
Spoon approximately 1 tablespoon of batter into each muffin tin
Bake at 350° for 18-22 minutes
Cool and serve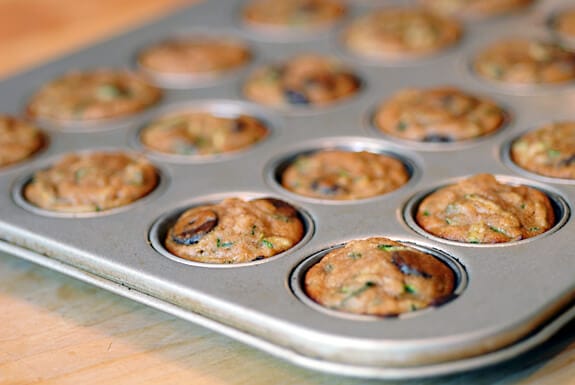 Last night I had a fabulous time teaching at the Culinary School of the Rockies.  My next class is on October 28th at Bauman College, right here in the heart of Boulder.
My busy week started off with a super fun interview Monday on 9 News' Colorado and Company television program, during which we discussed my high protein gluten free cookbook
and ate lots of treats that I brought to the show.
The busy week continues this Sunday as I will be appearing at the ADA conference in Denver.  For more information please see my book tour page.
In Freebie news, the winner of last weeks Friday Freebie (book by Robyn O'Brien), The Unhealthy Truth
is Danielle! Congratulations.
This weeks Friday Freebie is for a box of Kroeger Herb's Female Tea and a bottle of their Female Balance™ Herbal Supplement. Leave a comment below by Wednesday, October 21st for your chance to win.
UPDATE: This giveaway is now over. The winner of the Kroeger Herb's was Michelle. Thanks to everyone who participated!