I can't count the number of times I've been asked for a vegan eggnog recipe.  This gluten free, dairy free (egg free) eggnog is not too challenging to make and full of filling rich yumminess.
Unlike other eggnogs, it's not too sweet and has a nice delicate nutmeg flavor.  If you want to decrease the sweetness further, go with only 1 tablespoon of agave in the recipe below, or eliminate it entirely.  You'll still have the natural sweetness of the almonds and the rich round sweetness of yacón.
Vegan Eggnog
Instructions
Soak almonds overnight
Discard soaking water and rinse almonds in a deep bowl of water, repeat until water is clear
Place soaked almonds and 4 cups of water in a vitamix
Blend on highest speed for 90 seconds
Strain milk through a fine mesh paint bag, discarding solids
Place almond milk in a half gallon mason jar
Add vanilla, agave, yacon, nutmeg, cinnamon and cloves, then shake well
Refrigerate until cold and serve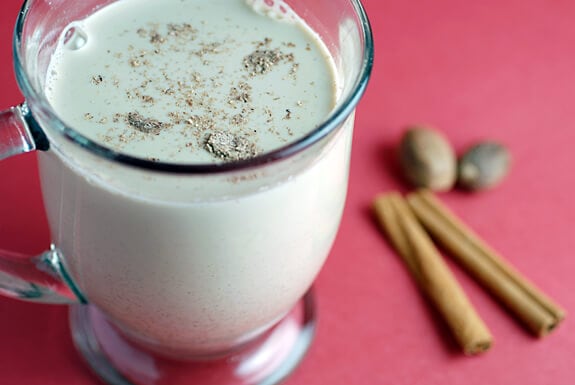 As you all know, I love almonds.  I wrote an entire gluten free cookbook on them called The Gluten-Free Almond Flour Cookbook
.  So it was a lot of fun when I found this very positive article on almonds over at Men's Health Magazine.  Men's Health is on the almond bandwagon!
It's Friday again and the winner of last weeks Friday Freebie is Lauren!  She won the Virgin Coconut Oil
book from Tropical Traditions.
For this weeks Friday Freebie I've received a 5lb bag of blanched almond flour from Honeyville to give away (again).  Go ahead and leave a comment below to be entered. On top of that, Honeyville currently has special on almond flour –a 15% discount that continues until November 17th, 2009.  To receive your discount, enter the coupon code VETERANS into your order.
UPDATE: This giveaway is now over. The winner of the Honeyville giveaway was Sarah Yao. Thanks to everyone who participated!