This recipe comes from The Spunky Coconut Cookbook
by my adorable friend, Kelly Brozyna of the spunkycoconut.com.
Last weekend, between all of my writing deadlines, I snuck out of the house, away from the computer to meet up with Kelly and her family at the Boulder Farmer's Market.  We grabbed some grub from the market, splashed around with her gorgeous daughters in the creek, then walked around downtown together for a while.
How refreshing!  I hadn't been out of the house for that long in a while, and Kelly, her husband Andrew
(an author in his own right) and their girls were so fun to be with.  The outing totally took my mind off work, and I'm really looking forward to getting together with all of them again.  Below is my version of Kelly's delightfully delicious gluten free chicken meatballs.
Chicken Meatballs from Spunky Coconut
Instructions
Preheat oven to 350°
In a food processor, pulse together the zucchini, carrots, parsley and garlic
Add almond flour, egg, and chicken
Then add salt, pepper and chili powder and process until thoroughly combined
Drop tablespoon sized balls of the chicken mixture onto a parchment lined baking sheet
Bake meatballs for 20 to 25 minutes
Serve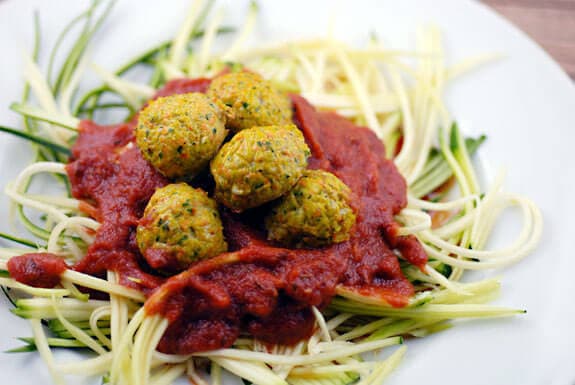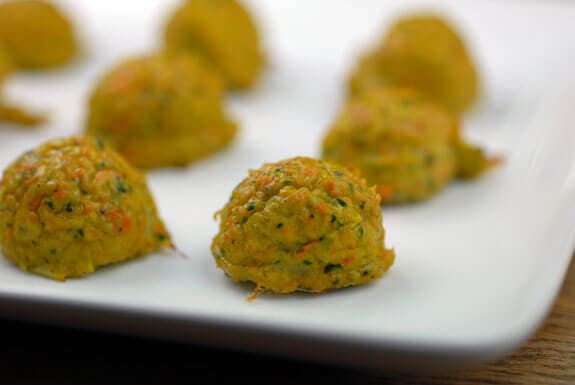 I serve these meatballs over (gluten free) homemade Zucchini Noodles, with the Tomato Sauce recipe from The Gluten-Free Almond Flour Cookbook
, though you can serve them over anything you like!  I have found that the Zucchini Noodles taste even better if you toss them in a bit of olive oil and tomato sauce and let them sit and marinate for an hour on the counter.  Then top with these gluten-free meatballs.  Then yum.
The winner of last weeks giveaway for an Elana's Pantry gift bag including The Gluten-Free Almond Flour Cookbook, an EP t-shirt and an EP shopping tote is Lisa Vance!  If you haven't entered the giveaway for a copy of Ali Segersten's book, The Whole Life Nutrition Cookbook
, head on over to my Healthy School Lunch post and do so! I'll announce that winner on Monday, October 4th, 2010.
Today I'm giving away a copy of The Spunky Coconut Cookbook
. To be entered just leave a comment below. This giveaway will end October 7th, 2010.
UPDATE: This giveaway is now over. The winner of The Spunky Coconut Cookbook was Audrey J. Thanks to everyone who participated!