Soup is good food. Especially healthy soup made with a mere five ingredients.
This quick and easy Roasted Cauliflower soup recipe is one that I found in a recent issue of Bon Appetit. Except their recipe had butter and heavy cream; I've de-Paula Deened this recipe so that it is the pure delicious essence of a vegetable without all kinds of unnecessary other ingredients and flavors.
Roasted Cauliflower Soup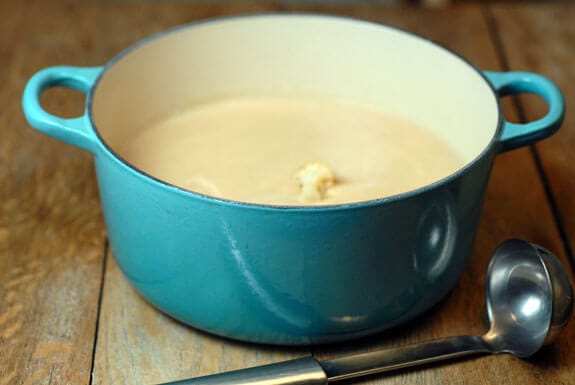 Print
Email
Pin Recipe
Place whole head of cauliflower in a

9 x 13 inch baking dish

Rub cauliflower with 2 tablespoons olive oil and sprinkle with salt

Add ½ cup water to the dish

Bake uncovered at 350°F for 1½ hours, or until a knife cuts easily through the core

Remove cauliflower from oven and allow to cool

Coarsely chop and set aside

Heat remaining 2 tablespoons olive oil in a large saucepan over medium heat

Add onion and cook until soft and translucent, about 15 minutes

Add cauliflower and 4 cups water or stock

Simmer until cauliflower is very soft, about 10 minutes

In a

vitamix

puree in very small batches until smooth

Transfer back to pot and bring to a simmer

Serve
Prep Time 10 mins
Cook Time 1 hr 55 mins
Total Time 2 hrs 5 mins
Cauliflower is one of my favorite foods. A cruciferous vegetable, it is full of anti-oxidants, anti-inflammatory compounds and healthy fiber.
Here are some other healthy cauliflower recipes:
Do like cauliflower? If so what are your favorite cauliflower recipes?
---
Buy My Books!
---