As the weather is changing I'm leaning towards recipes that call for pumpkin, apples, cranberries and the like and am craving time in the kitchen to make lots of warm food for my family.  Along those lines, this Pumpkin Cinnamon Cheesecake is a winner.  This gluten free dessert doesn't last long around the boys and their friends.
With so many healthy and nutritious ingredients, this pie style cheesecake could almost be part of the main course, though I prefer to save it for an after dinner treat in our house as I enjoy the dessert and tea ritual at the end of a meal (the boys love to make tea every evening and are now old enough to hold the kettle of hot water after it has boiled; they are growing up).
For those of you looking for a standard pumpkin pie, I do have a recipe for that dish in my gluten free cookbook, The Gluten-Free Almond Flour Cookbook
. While the recipe below is casein lactose free if made with the right type of yogurt, the Pumpkin Pie recipe in my book is completely dairy free and is another family favorite.
Pumpkin Cinnamon Cheesecake
Instructions
Fill the bottom of a baking dish with a little less than ¼ inch of water
Cut pumpkin in half, remove seeds, and place face down in baking dish
Roast pumpkin in the oven for 45-55 minutes until soft
Allow pumpkin to cool and scrape flesh into a bowl, then measure out 2 cups
In a food processor, combine 2 cups pumpkin, strained yogurt (minus the whey which was strained out), agave, vanilla and lemon juice and process until smooth, about 1-2 minutes
Process in cinnamon and salt
Pour batter into a 8-inch springform pan
Bake at 350° for 45-50 minutes, until firm
Remove from oven, cool and serve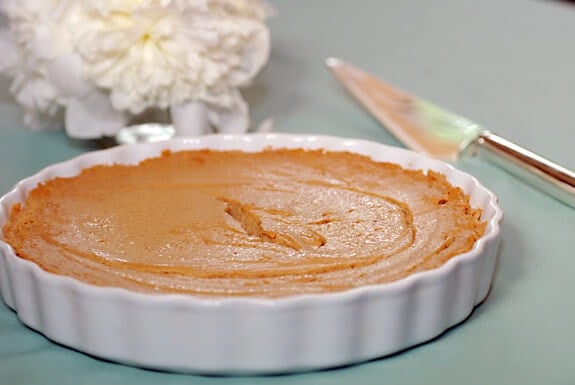 Yesterday I had the pleasure of meeting Robyn O'Brien, another local author.  She penned an amazing book that is on my must read list called The Unhealthy Truth
and gave me a copy to give to one of you.  Leave a comment for this Friday Freebie before next Wednesday and I will draw one of your names out of a Yankees hat to determine who wins.
Oh and don't forget about Nourishing Days Food Roots for October! Submit a post about what you're doing to find your food's roots.
UPDATE: This giveaway is now over. The winner of The Unhealthy Truth was Danielle. Thanks to everyone who participated!