In honor of fall, I spent several days last week in a pumpkin "trance," experimenting with various iterations of gluten free baked goods containing pumpkin.
At first, I had terrible failures. Suffice it to say that my pumpkin cookies and pumpkin scones while edible, were not at all blog worthy. Next, I decided to make pumpkin loaves –while they didn't look too pretty, they were delicious. Finally, I made these gluten free pumpkin bars, which my 10 year old declared "addictive."  Every day last week, he brought our neighbor boys (Cole and Carson) over after school for a fix. I hope you enjoy these gluten free pumpkin bars as much as the boys did.
If you're not in the mood for a bar, try these gluten free Pumpkin Pie Muffins.
Pumpkin Bars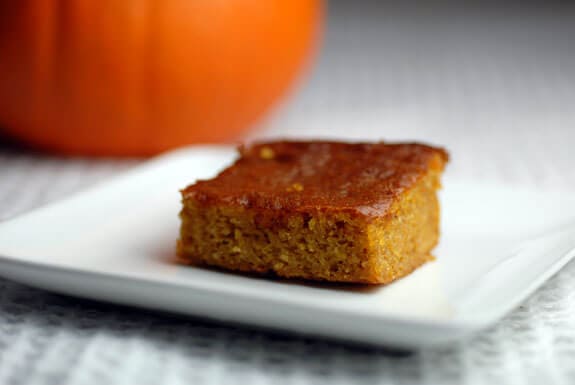 I've got a nice eco-giveaway today –a 3 pack of Hemp Bags from Hands On Hemp and a beautiful hard cover book called Core Truths from The Organic Center. To be entered to win this eco-prize just leave a comment below. As always, this contest is open to everyone, everywhere. This giveaway will end October 27st, 2010 at Midnight. I will announce the winner on October 28th, 2010.
Here are some other pumpkin bread recipes you may like:
–Pumpkin Pie Bread Recipe from Karina of Gluten-Free Goddess
–Gluten-Free & Vegan Pumpkin Bread from Maggie of She Let Them Eat Cake
–Vegan Pumpkin Walnut Bread from Joy of Joy the Baker
UPDATE: This giveaway is now over. The winner of this giveaway was Lanell. Thanks to everyone who participated!