Did you know that you can use cauliflower as a substitute for rice? This Paleo Dirty Rice recipe is made with low-carb cauliflower. For those avoiding starchy high-carb foods such as white rice, cauliflower rice is a wonderful alternative that is highly nutritious.
What are the health benefits of cauliflower? Cauliflower is a cruciferous vegetable that is rich in antioxidants and anti-inflammatory compounds. These substances help detoxify the body. Cauliflower is also full of vitamin C, vitmain K, Omega 3's, and good fiber. Because it is both nutritious and low-carb, cauliflower is a great food if you are on a keto diet. For more low-carb recipes see my Ketogenic Diet Recipes page.
Over here? We just can't get enough cauliflower. Even my children like Paleo Dirty Rice. We had this spicy paleo side dish with the Turkey Loaf recipe from The Gluten-Free Almond Flour Cookbook, and the boys and their friends loved both dishes!
Paleo Dirty Rice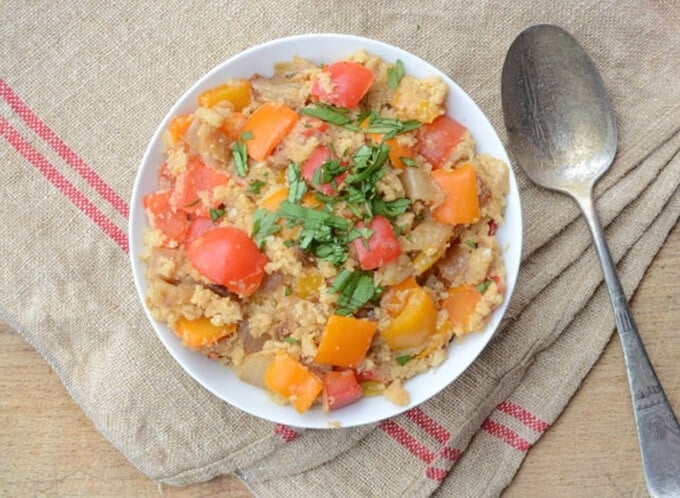 Print
Email
Pin Recipe
Heat olive oil over medium heat in a

9 inch skillet

Add garlic, onion, celery, peppers, and scallions and sauté until soft

Stir in riced cauliflower, thyme, bay leaf, salt, pepper, chili, and cumin

Add chicken stock

Simmer over medium-low heat, stirring frequently for 30 minutes or until liquid is cooked down

Serve
Prep Time 10 mins
Cook Time 40 mins
Total Time 50 mins
After I created my Paleo Cauliflower Rice recipe last year, I received many requests for flavored paleo rice recipes. When I saw that Paleo Comfort Foods
had a recipe for Dirty Rice, I knew I'd have to make my own version. This dish is based on theirs.
Here are some of my other low-carb recipes that use cauliflower: