When Ali at Whole Life Kitchen told me she was hosting this month's Go Ahead Honey It's Gluten-Free: Ideas for Packing a Healthy School Lunch, I knew I would want to participate in this blogging fête.  Healthy food for children is a passion of mine.  And I'm a big fan of Naomi Devlin's blogging carnival, Go Ahead Honey, It's Gluten Free!
The lunch that I have prepared for this blogging festival is simple and easy to make; a sandwich, fruit, veggie sticks and power bar.  I like to keep things simple as the boys are responsible for packing their vitals every day before dinner (for the following day's lunch).  They make the grub, then I inspect the results, before the lunch is put into the fridge.
Here's my favorite lunch menu (I have another one that was recently published by Parents Magazine.)
Healthy School Lunch
Instructions
Pack it in a reusable bag
Enjoy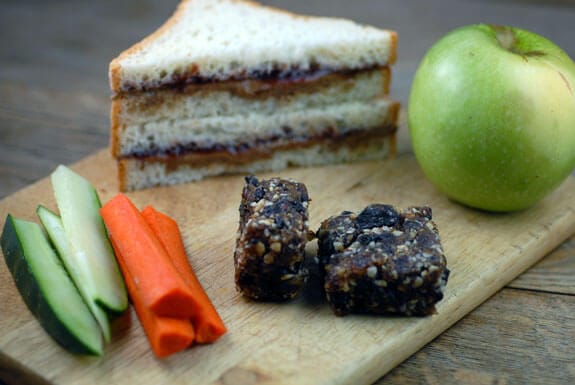 In freebie news, I am giving away a copy of Ali's book, The Whole Life Nutrition Cookbook
, which I highly recommend.  Ali is a personal chef, author and formerly owned a personal chef business.  Her gluten free recipes are wholesome and delicious.  To win a copy of her book, leave a comment below letting us all know what your favorite lunch was as a child.
UPDATE: This giveaway is now over. The winner of the The Whole Life Nutrition Cookbook was Alejandra. Thanks to everyone who participated!