This healthy and simple Grilled Broccoli recipe was inspired by a comment Kristi left on my Grilled Chipotle Orange Chicken post way back when:
Elana, you mentioned you like to serve this yummy chicken with grilled broccoli. I've grilled other veggies but not this. How do you go about grilling broccoli? Thanks! Kristi
Thank you, Kristi! I hope you enjoy this grilled broccoli with my Grilled Chipotle Orange Chicken or another gluten free chicken recipe.
Grilled Broccoli
Instructions
Wash and cut broccoli into smallish pieces with long stems
Toss broccoli in a large bowl with olive oil and salt
Place on grill over medium heat
Cook for 3-5 on each side until tender
Serve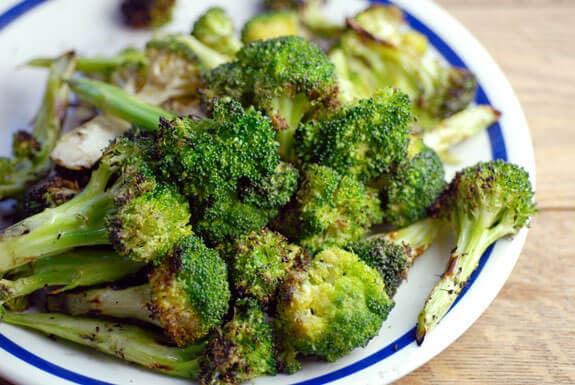 When I made this broccoli a couple of afternoons ago in order to get a picture of it for y'all, I had to hide it from my boys.  They wanted to eat it all –they like this dish that much!  The grilled broccoli also goes really well with a little homemade garlic oil poured over it.  That's one of our favorite wintery dinner side dishes.
Thanks for voting for my recipe over at the Pacific Foods Everyday Chef Challenge.* I am the only gluten free blogger in the contest and I'm thrilled that Pacific Foods chose me to participate.  Voting is still underway and you can vote every 24 hours. So, head on over and take a look at my recipe, Thai Vegetable Soup and cast a vote for your favorite recipe! Jaden from steamykitchen.com is moderating the challenge and has a great roundup post with more details about all the participating food bloggers.
Don't forget about last weeks giveaway for a chance to win a case of Pacific Foods Broths and Soups!
We're not done with the giveaways! Today, I'm giving away a Pesticide Action Network 100% organic cotton tote bag (pictured below) to celebrate the launch of PAN's newly overhauled website. To be entered leave a comment below and let us know what you do to avoid letting pesticides into your life.
UPDATE: This giveaway is now over. The winner of the tote bag was Kelly. Thanks to everyone who participated!
* Disclosure: I am working with Pacific Natural Foods as a participant in this promotion and have received a stipend