These Green Chili Turkey Burgers are based on a fabulous recipe from Mark Sisson's Primal Blueprint Cookbook.
His recipe is actually called Fried Eggs Over Green Chili Burgers, and is yet another high-protein entree from the king of primal that my entire family enjoyed.
Green Chili Turkey Burgers
Ingredients
2 (4 oz.) cans diced green chiles
1 pound ground turkey
1 cup cilantro, finely chopped
½ cup onion, finely chopped
2 teaspoons cumin
1 teaspoon chili powder
1 teaspoon celtic sea salt
Instructions
In a medium sized bowl mix diced chiles with turkey, cilantro, onion, cumin, chili powder and salt
Form into burgers and grill
Serve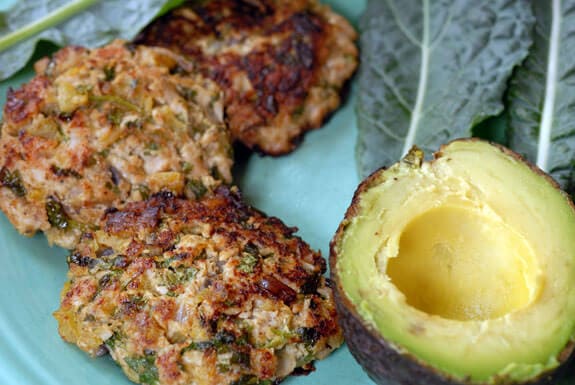 As you can tell from the directions above, and as one Amazon user commented about recipes in The Gluten-Free Almond Flour Cookbook
, this recipe is definitely one of those "quick and dirty dump and stir affairs."
My burgers have more "junk" in them than Mark's do, as I prefer a pattie that is very heavy on the vegetables.
The winner of last weeks giveaway for Mark Sisson's Primal Blueprint Cookbook
is Emily! Emily's favorite paleo recipe from Elana's Pantry is my Mexican Chicken and "Rice." Thanks Emily! It's one of my favorites too.
We're continuing giveaway madness today with a copy of Mark Sisson's other book, The Primal Blueprint
. To enter this giveaway leave a comment below and let us know what you would serve alongside these primal Green Chili Turkey Burgers.
Don't forget to enter the other great giveaway from last week, a bamboo chopping board to make your Chopping Board Pesto! hurry, that giveaway ends this Wednesday, September 1st.
UPDATE: This giveaway is now over. Thanks to everyone who participated!