My garden is over run by cucumbers –in fact, we have a total cucumber infestation, so I am busy pickling away.  This recipe for Homemade Dill Pickles is one of my favorites. The recipe is based on one from Carol Gold, mother of my good friend Susie Gold, and it is a classic!
The jar in the photo above is actually a half quart
.  The key in making this recipe is to scale it up so that you can do lots of jars of pickles at once, kinda factory like, and keep the ratio of pickling water as below — 1 tablespoon salt for every cup water.  We make a huge batch and then make more as we go.
Dill Pickles
Ingredients
6 small gherkin cucumbers (whole), or 1-2 large cucumbers, sliced into spears
2 cloves garlic
2 bay leaves
2 tablespoons dill, fresh and finely chopped
3 tablespoons celtic sea salt
3 cups water
Instructions
Wash cucumbers and place in a wide mouth quart sized Ball jar
Place garlic, bay leaves and dill in jar with cucumbers
Close jar and let sit for one hour
Mix salt and water together
Fill jar containing cucumbers and seasoning to the top with salt water mixture
Let sit in a cool place for 7 days
Serve
Store in fridge after opening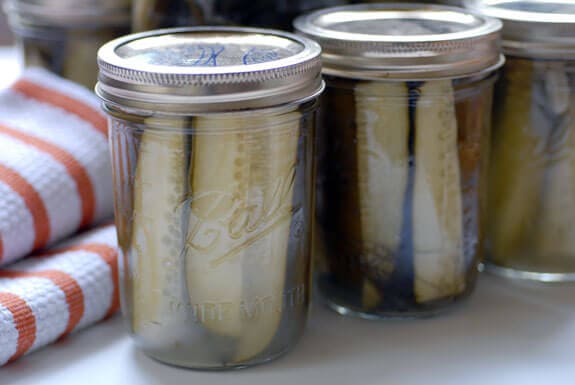 UPDATE: Due to a few questions from some of the commenters below I wanted to point out that this recipe uses the brining method for pickling veggies, rather than the canning method. This is why there are not boiling instructions in the recipe directions. Since we are performing a simple pickling process for short term usage the canning method is not necessary.
My boys love making these Dill Pickles and are a true help in the production process.  It is one of the many fun ways we spend time together in the kitchen.  So, don't be intimidated, this is a great way to get your preserving skills going.  It's easy and children love both the process and results.

And to make your pickling potentially easier, today we are giving away a Canning Discovery Kit from Ball.  My house is full of Ball jars.  I use them for everything from storing leftovers, to pickling to who knows what?!  They are all over my kitchen and I find them to be a beautiful storage solution that is more economical than plastic, easier on both the planet and our bodies. Check out my top ten reasons for using glass jars.
There are 3 ways to enter this giveaway, and you may enter as many as 3 times by doing the following:
Leave a comment and let us know what your favorite size Ball jar is and what you use it for.
Retweet this giveaway on Twitter by using the retweet button below.
Share this giveaway on your Facebook wall –be sure to type @elanaspantry and select the Elana's Pantry page before posting to your wall (for this to work you will need to be a fan of my Facebook page).
The contest ends midnight, Wednesday, August 18th.
UPDATE: This giveaway is now over. The winners of the Ball Canning Discovery Kit were Christy & jennir0212. Thanks to everyone who participated!