As I mentioned the other day, Laura Dolson's flax bread recipe has been more than inspirational. I have used it as a starting point for many other recipes which you will see here in the days and weeks to come. Today's recipe is for a dark "rye" bread.  I like to eat this plain or lightly toasted.
Again, I was surprisingly pleased that my tasters enjoyed this bread as much as I did.  It's very versatile and also works quite nicely for sandwiches.
Dark "Rye" Bread
Serves:
Instructions
In a large bowl almond flour, flax, salt, baking soda and cream of tartar
In a smaller bowl combine eggs, oil, water and agave
Stir wet ingredients into dry, then mix in caraway seeds
Allow batter to sit for 1-2 minutes to thicken
Grease a 7.5 x 3.5 magic line loaf pan and pour/scoop batter in
Bake at 350° for 30-35 minutes
Cool and serve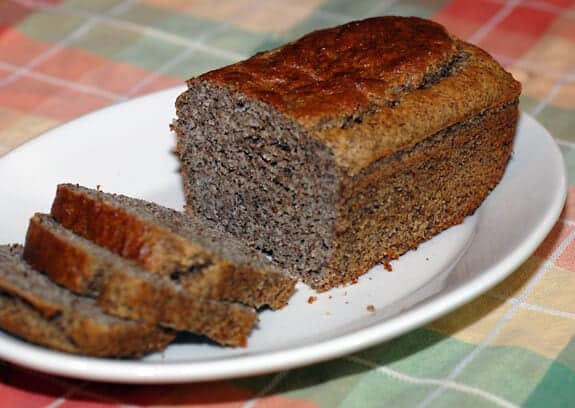 As you may notice, the pan for this bread is a bit of an odd size.  It is one of my favorite loaf pans for gluten-free baking because it works so well, cooking quite evenly.  I purchased mine at a local store called McGuckin's, here in Boulder.  I went back to get more and was told by them several times that they had not ever carried it.  Finally, I went back another time and must have found the right person, since she remembered the pan and placed a special order for me.
I have not ever seen this optimal little loaf pan on the internet.  I will give you what little clues I have as to its makings.  It is manufactured by Luminarc, says "MADE IN FRANCE" and the new ones come with a label on the bottom that says "PLAT  RECT 16 x 10"  The UPC numbers on this same sticker are 26102 63303.
If any of you find this glass loaf pan on line, please leave a comment for others.  It is a fabulous little baking dish that I recommend as a helpful little kitchen staple.
Update: I have found the coveted glass loaf pan online.  It is linked in the recipe above!
Update: This loaf pan may have been discontinued. Stay tuned…
Now, for today's Friday Freebie, I am more than happy to announce the giveaway of a copy of my book, The Gluten Free Almond Flour Cookbook.  Leave a comment below this post and you will be entered into the drawing.
Have a lovely weekend everybody!
UPDATE: This giveaway is now over. The winner of The Gluten-Free Almond Flour Cookbook was Kandy. Thanks to everyone who participated!