My garden is flourishing and the basil plants are doing particularly well.  Hence pesto, gluten free, dairy free, chopping board pesto.  A couple of years ago, I saw a recipe in the local paper for a chopping board pesto, and then just the other day, my friend the fabulous Patrick reminded me about making pesto using this method.
My favorite way to eat this delicious green stuff is on a gluten free (of course) cracker.  Enjoy!
Chopping Board Pesto
Instructions
Chop the basil into fine strips until it's practically minced
Place the basil in a bowl
Chop the pine nuts fairly fine, though not to a powder, leave a little crunch
Place pine nuts in bowl with basil, then toss in olive oil, salt and pepper
Serve over crackers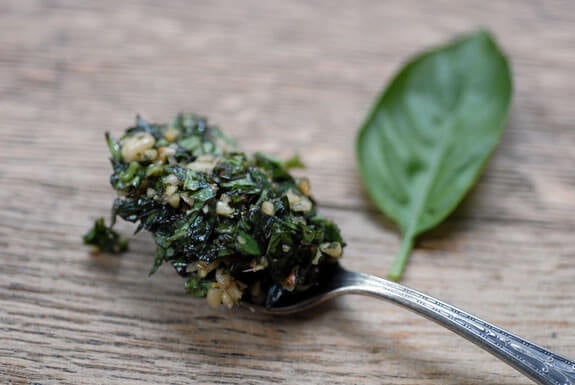 I was surprised to learn that Serious Eats recently featured Elana's Pantry in an article called "The Crisper Whisperer: 10 Great Blogs for Veggie Lovers That May Be New to You."  The author, Carolyn Cope of umamigirl.com, said Elana's Pantry is an "under-appreciated resource for produce lovers."  I am thrilled that she got past all of the gluten-free hype and into the "meat" of my site –simple recipes that use whole, fresh ingredients resulting in dishes that are tasty enough for everyone. Make sure you check out the beautiful food photography on her website. Thanks Carolyn!
Speaking of gluten-free hype, I read an amazing article on Celiac Disease in the Wall Street Journal yesterday called "Giving Up Gluten to Lose Weight? Not So Fast" by Melinda Beck. It's interesting that the glow is wearing off the gluten-free SAD (Standard American Diet) and that people are looking more carefully at the available food choices. This type of coverage makes me think that sites like marksdailyapple.com, which offer healthy gluten-free food options, are only getting ready for prime time.
I wanted to give a big shout out to Chris from celiachandbook.com and a post he wrote last month called "Gluten-Free Blogs – Best of the Best" over at his personal blog gfhandbook.com. Celiachandbook.com is a great online resource and restaurant guide for everyone with Celiac Disease. Thanks Chris and keep up the good work!
Whew! I wasn't kidding about it being giveaway season over here at Elana's Pantry.  Don't forget that the giveaway for Mark Sisson's Primal Blueprint Cookbook
is going on until Sunday, August 29th.
Now, Here's another!
Today I'm giving away a 12″ x 18″ bamboo chopping board from Grande Epicure. To be entered in this giveaway all you have to do is leave a comment below letting us know what you use your chopping board for the most. This giveaway will end on Wednesday, September 1st.
UPDATE: This giveaway is now over. The winner of the chopping board was Stacy. Thanks to everyone who participated!