Okey dokey, here comes a turkey day fave.  I've had a lot of requests for a gluten free biscuit lately, especially in my forums.  These biscuits are super easy to make and high protein fare to boot.  So you just might want to add these to your Thanksgiving menu.  Or your Christmas dinner menu.  Or a brunch menu.  As you can see, they're quite versatile.
Biscuits
Instructions
In a medium bowl, combine almond flour, salt and baking soda
In a large bowl, blend together coconut oil, eggs and honey
Stir the dry ingredients into the wet until a nice dough forms
Roll out dough between 2 pieces of parchment paper to ¾ inches thick
Dust dough with extra almond flour if it is sticky and/or misbehaving
Cut the dough into biscuits using a mason jar with a 2 ½-inch wide mouth
Using a spatula, transfer biscuits to a parchment lined baking sheet
Bake at 350° for 15 minutes, until biscuits are browned on the bottom edges
Serve with gravy, jelly or whatever else your heart desires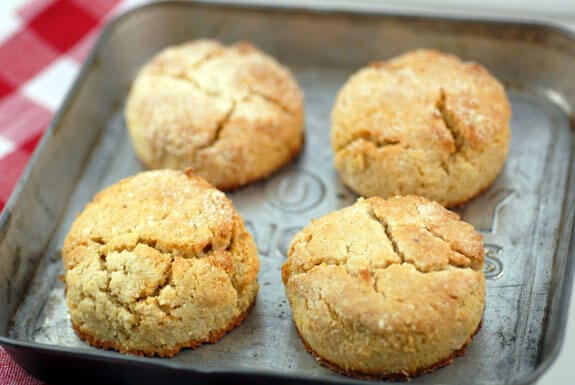 Here are some more gluten free biscuit recipes you might like:
To help you with your biscuit making adventures I'm giving away a 5lb bag of blanched almond flour from Honeyville! To enter leave a comment below. Everyone everywhere is eligible and I will pick the winner at random. This contest will end at midnight on November 21st, 2010.
Speaking of giveaways, below are a few friends who are giving away The Gluten-Free Almond Flour Cookbook:
–Totally Together Reviews (Leave a comment by 5pm PST on 11/15/2010)
–The Daily Meal (Upload a Thanksgiving recipe to TheDailyMeal.com by 11pm EST on 11/16/2010)
–Natural Solutions Magazine (Register for the Natural Solutions eNewsletter by 11:59pm MST on 11/30/2010)
What better way to use your bag of blanched almond flour than with a free copy of The Gluten-Free Almond Flour Cookbook!
UPDATE: This giveaway is now over. The winner of the BHoneyville giveaway was Jennifer Bussey. Thanks to everyone who participated!