Is it cold outside? Well guess what folks –I have 10 hot drinks to keep you warm this winter! These delicious hot healing beverages will heat you up from the inside out. I like to sit by a window and watch the snow fall with one of these nice hot drinks in my hand to keep me extra cozy.
With warming spices such as cinnamon and ginger, you'll find these hot drinks nourishing and restorative. The warming spices in them also happen to be full of antioxidants to help you stave off a cold or the flu. I have everything from spicy Mexican Hot Chocolate to soothing Ginger Licorice Tea to keep you from getting chilled.
Stay hydrated and warm in this wacky weather and enjoy a hot cup o' something good! Here's 10 hot drinks to keep you warm this winter!
10 Hot Drinks to Keep You Warm this Winter
With everything from dairy-free White Hot Chocolate to a low-sugar Hot Apple Cider, you'll love my 10 Hot Drinks to Keep You Warm this Winter! If you're looking for a good winter cocktail recipe, feel free to spike these warming drinks with your favorite rum, brandy, or mulled wine! Sure, these non-alcoholic drink recipes are probably healthier when they're not full of alcohol, but they're a great healthy base if you want to celebrate and party it up a bit! So here's some cheers to nice warm winter cocktails!
Do you have a favorite hot drink that's not on this list that you would like to see me Elana-ify, and make healthier? Leave a comment and let me know!
Thanksgiving Vitamix Giveaway! To celebrate Thanksgiving and everything I'm thankful for, I'm giving away a Vitamix 750 Professional Series Blender and a signed copy of my book, Paleo Cooking from Elana's Pantry, to one lucky subscriber of my newsletter.
To enter, sign up for my newsletter. If you already receive the newsletter, you're automatically entered! This giveaway ends Thanksgiving day –Thursday, November 27 at 5pm MT. It is open to everyone everywhere! Just think, after your lovely dinner, one of you, […]
Since I started this blog in 2006 I've created tons of easy dessert recipes. Dessert is my favorite part of any meal. Since Thanksgiving is one of my favorite holidays, I figured what could be better than dessert recipes for Thanksgiving? Only one thing –Paleo Thanksgiving dessert recipes!
These Paleo dessert recipes are perfect for after Thanksgiving dinner and will round out your Thanksgiving menu because while they look stunning and impressive on your table, they are actually easy recipes. The […]
I adore nutmeg. It reminds me of the holidays –eggnog, pumpkin pie, and cookies. This healthy, warming spice is also full of nutrient rich antioxidants. It is known in alternative healing as a fantastic spice to aid in sleeping, digestion, and appetite stimulation. If you're wondering how to grate nutmeg this post is for you!
When I was growing up we purchased ground nutmeg from the store. I didn't know what whole nutmeg looked like until I first encountered it on […]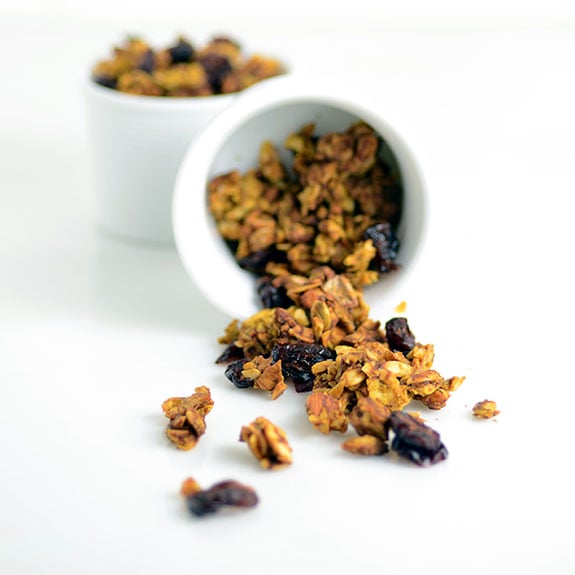 Pumpkin Cranberry Granola makes a great grain-free breakfast or healthy snack. This festive fall granola recipe is made with almonds, macadamia nuts, pumpkin seeds, cranberries, pumpkin puree, cinnamon, and a touch of honey, and it is darn delicious!
You will notice that this recipe calls for a 10 hour baking time at 170° –that is not a typo. Baking low and slow, rather than at a high temperature for a shorter time preserves more of the live (or raw) enzymes in […]